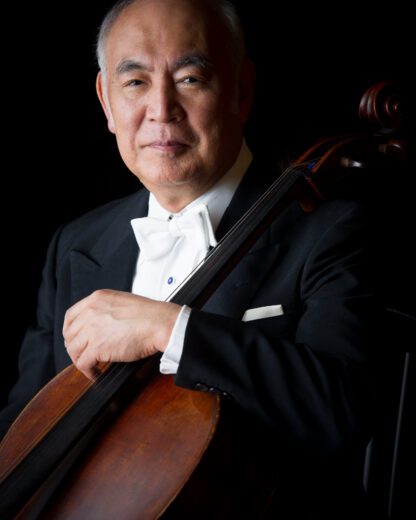 Tsuyoshi Tsutsumi
Cellist, President of Suntory Hall, professor
Japan
Photo: Naruyasu Nabeshima
Tsuyoshi Tsutsumi's early training with Hideo Saito led him to his debut at the age of 12 with the Tokyo Philharmonic. Appearances with Japan's leading orchestras followed, as did several major prizes, including Japan's most prestigious, the Mainichi (Japan) Music Competition. In 1963, he won the International Casals Competition in Budapest. Since then, audiences have heard his solo appearances with the world's greatest orchestras. He taught first at the University of Illinois and from 1988 at Indiana University as Professor of Music. He has frequently been invited to conduct masterclasses at music academies on all continents and has sat on the juries of many prestigious international music competitions.
In 2009, Tsutsumi was awarded Japan's highest honour, the Medal with Purple Ribbon. He is also a member of the Japan Art Academy and a recipient of the Suntory Award for his contribution to music in Japan, and has received the National Academy of Arts Prize in music.
In 1997, he was elected the first President of the Japan Cello Society, and in 2000 Music Director of the Kirishima International Music Festival and Director General of the Suntory Foundation for Arts. He was elected President of Suntory Hall in 2007 and worked as President of the Toho Gakuen School of Music for nine years. Tsutsumi is also a professor at the Toho Gakuen School of Music and a visiting professor at the Korea National University of the Arts School of Music.