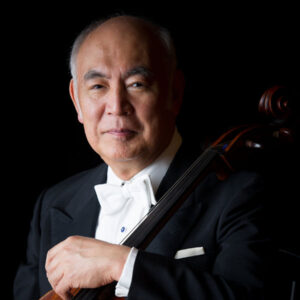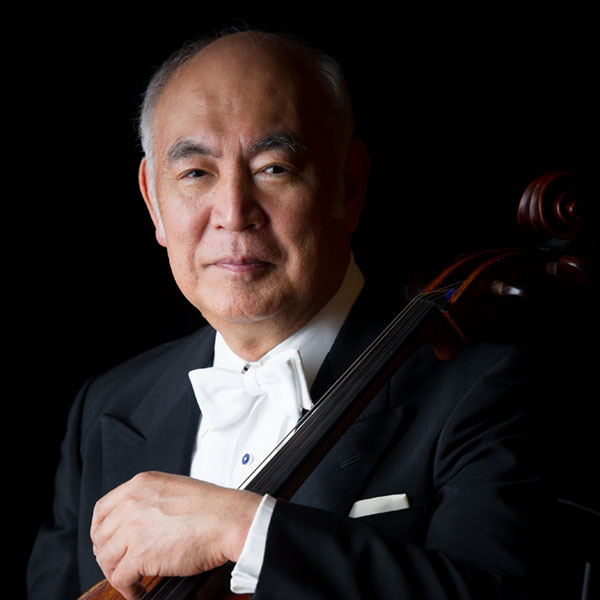 Tsuyoshi Tsutsumi
Tsuyoshi Tsutsumi, an artist who can "add something akin to a spiritual quality (The Herald Times)" to the music, is one of the most notable musicians of his generation and respected mentors of cello performance. Since the debut at the age of 12 with the Tokyo Philharmonic and winning the 1963 International Casals Competition in Budapest, Tsutsumi has performed with the renowned orchestras such as the ORTF, the Berlin Radio Symphony, the Concertgebouw, the Rotterdam, Munich and Warsaw philharmonics and the Chicago, Indianapolis and Vancouver symphonies. One of the most impressive appearances with many great conductors was a concert telecast worldwide at the United Nations with the Toho Gakuen Orchestra conducted by Seiji Ozawa.
He is also a champion of premiering new music by Japanese composers, such as Toru Takemitsu, Akira Miyoshi, Toshiro Mayuzumi, just naming a few. Touring the globe as soloist, he also busies himself as an educator, leading master classes in US, France, Netherlands, Canada, Korea, Taiwan and other Asian countries. After the almost 20 year tenure as Faculty of the Indiana University, he contributed to his Alma Mater, Toho Gakuen School of Music as President for nine years. Now he is also Specially appointed professor, Toho Gakuen School of Music(1976-), Music Director of Kirishima International Music Festival(2000-) , President of Suntory Hall(2007-) and The visiting professorship at Korea National University of the Arts School of Music(2017-).
He is a recipient of National Academy of Arts Prize in music by the Emperor, Japan's Medal with Purple Ribbon, the highest honor in Japan and awarded Person of Cultural Merit in 2013. He has been a member of the Japan Art Academy since 2009.